Is SUMMER here yet?! I don't know about y'all, but I've got summer on the brain. I'm getting that major travel itch and dreaming of the tropics. Yes yes, when I'm in Florida it basically feels like the tropics year round, but without the same je ne sais quoi. In preparation for my trip to Cabo at the end of the month, I've been on the hunt for some awesome new resort handbags. I figured many of you might be planning travels somewhere warm also, so wanted to share the top 10 resort handbags under $100 I discovered!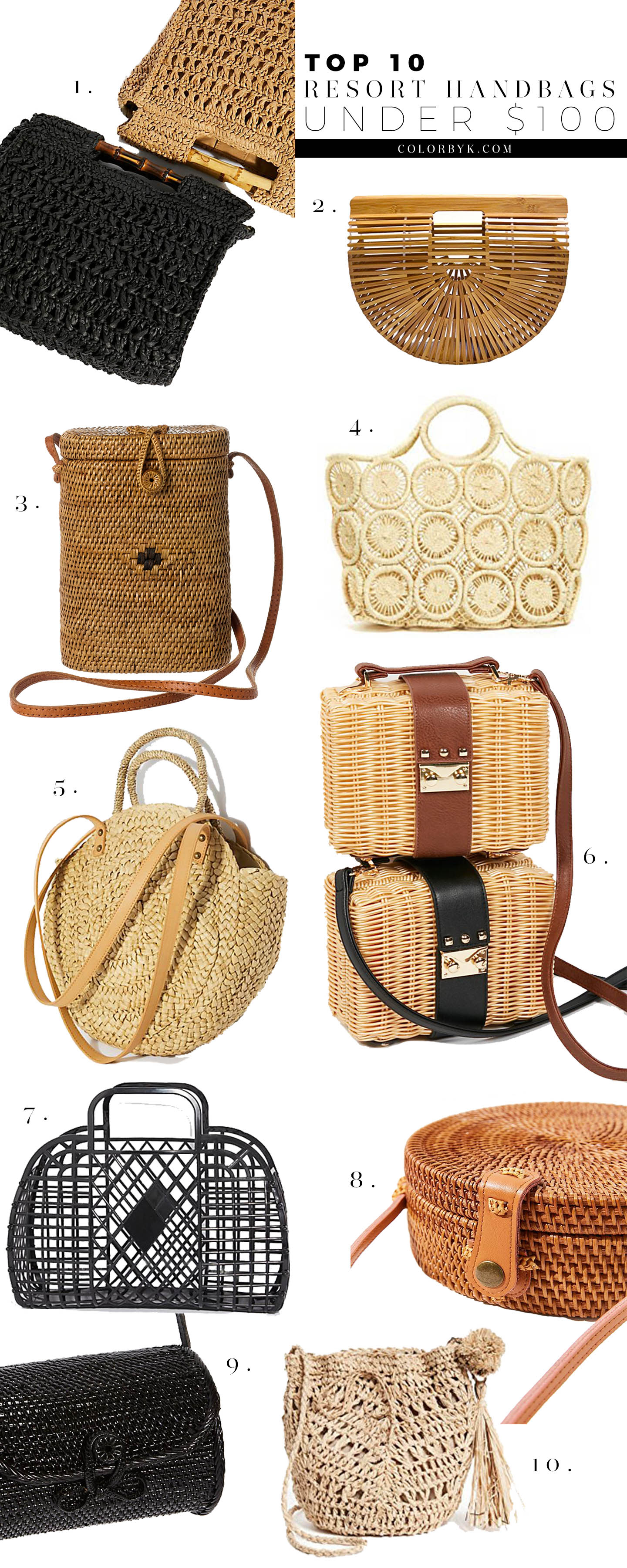 My Favorites Under $100
No. 2 | without a doubt the original Cult Gaia bamboo bag has held onto it's popularity for going on 3 summers now! I bought the beauty back in 2016 after seeing it on some of my favorite style icons. I had to wait 3 months for production to pick up, and the day of it's arrival, I was just as much in love as the day I bought her. Currently, y'all have the luxury of instant gratification as the brand is now distributed and sold at Shopbop + other quick-ship retailers. BUT, if the designer original is a bit out of your budget, here's an amazing dupe that doesn't break the bank. And here are a couple examples of me styling the small version: floral maxi dress, pink tiered maxi.
No. 4 | Hat Attack, without a doubt, is a brand that constantly re-invents the wheel when it comes to their straw bag designs. I've previously styled this simple tote + this straw clutch in the past, but I'm really loving the circular design this year! Just purchased it the other day, and can't wait to fill it with flowers and fruits from the farmer's market this spring.
No. 8 | This darker woven gem is probably my favorite crossbody option under $100. I purchased an identical version on Etsy last summer and have gotten so much use out of it. It's even a great option for transitional months because of its' darker hue.
SaveSaveSaveSaveSaveSave
SaveSaveSaveSaveSaveSaveSaveSaveSaveSave