I had every intention of putting the final touches of this post together BEFORE baby boy was born, but here we are – over 5 months later haha. Life just took over, and I'm finally starting to feel like we're in more of a rhythm with a schedule and allowing time for me to write again. Day by day.
Alas, I'm beyond excited to share our son's nursery in its entirety! From paint colors to fabric selections, it's all here. A completely traditional red, white and blue boy's nursery. Definitely the most special space I've worked on in our home, and truly one I 100% designed by myself, which I'm really proud of. Many hours were spent scheming, researching, sourcing and measuring for all these sweet touches. To some it may seem like a lot for a kids room, but honestly I don't regret a single decision or penny spent. Sterling and I both spend so much time in here, and it really does make me smile DAILY. It's equal parts sophisticated + playful, and just feels so right for our sweet boy.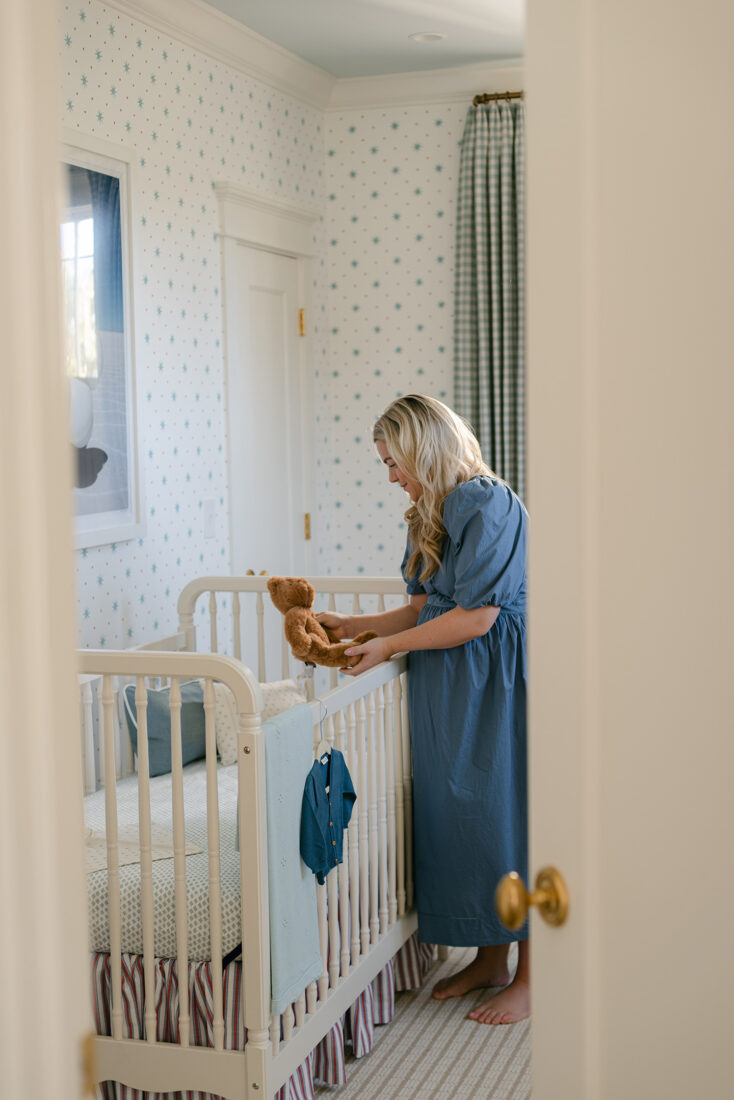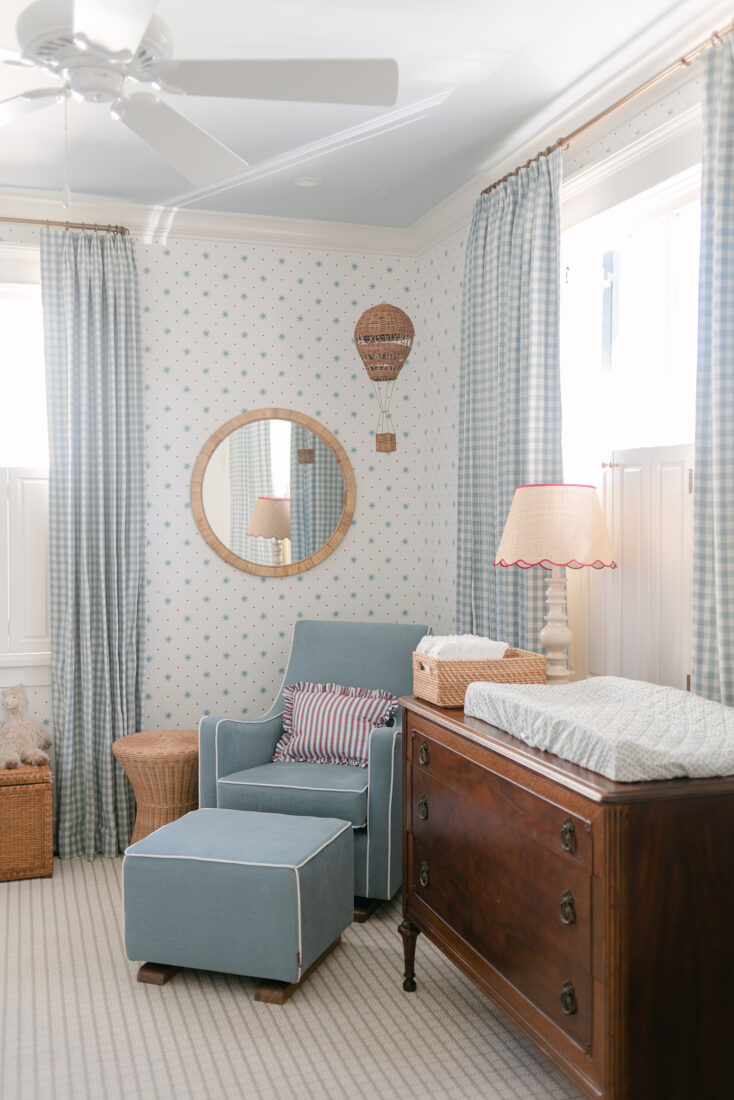 Base Layers | Paint, Paper, Rug
As I've mentioned on the blog about the paint throughout our home, the base of the room started with Benjamin Moore White Dove trim. From there we had Sister Parish's Serendipity Wallpaper installed – the Blue + Red colorway. Which paired perfectly with Farrow & Ball's Borrowed Light for the ceiling.
When it came to a rug in this space, my #1 priority was that is was cleanable. A close second, that it felt inviting and cozy. I sourced several samples from Pottery Barn and Annie Selke, but ultimately nothing beat the quality of Dash & Albert at Annie Selke. They're always incredible quality + durable. I decided to take the tight checkered pattern almost wall to wall, and it's been the perfect ground in our traditional red, white and blue boy's nursery.
Selecting a Glider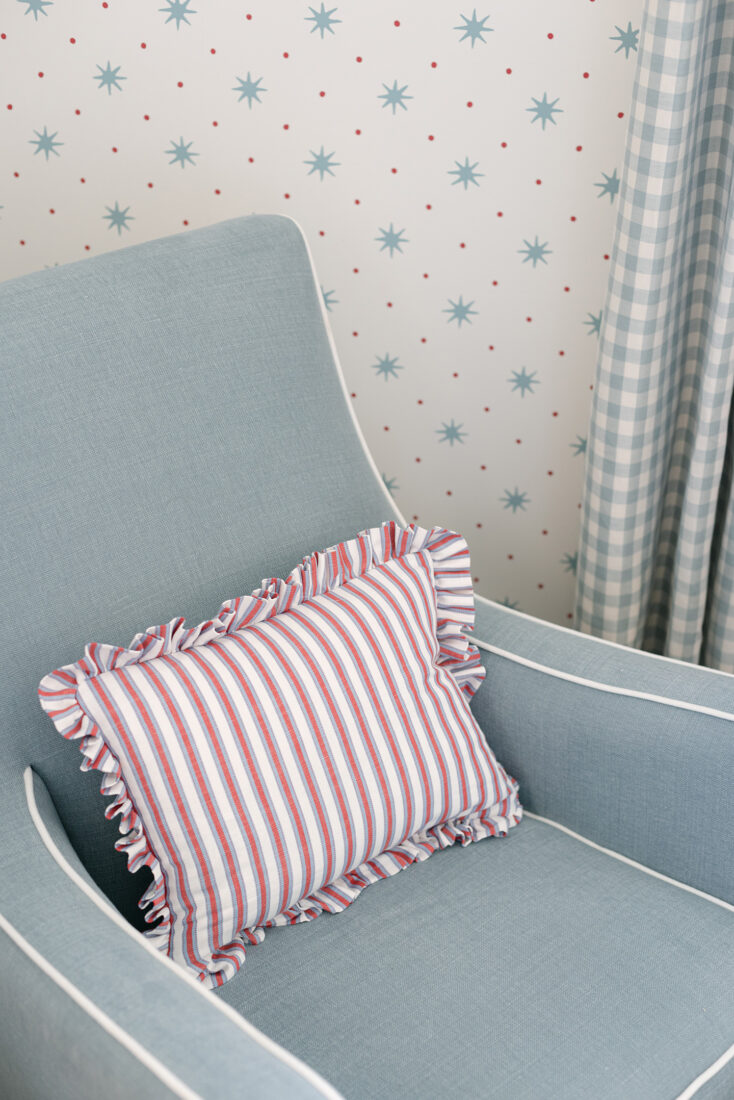 When searching for a glider to fit this room, it was challenging to find something custom or semi-custom within a 5-6 month timeframe. I think production timelines have since leveled out a bit, but when we were ordering things were a bit nutty.
Really had my heart set on a blue fabric with a contrast pipe, and low and behold Monte Design had just the piece! I ordered several fabric samples to ensure the hue of blue would blend well with everything else selection. Turned out the 'Sky' was absolutely perfect, and I was thrilled when the brand agreed to partner with me and gift this piece for our baby boy.
Along with the matching ottoman, these pieces have become the cornerstone of the room. Although the fabric is technically not performance, it's held up really well thus far with the spit up and general wear. We're really happy with it, and would absolutely recommend if you're on the hunt! They have a slew of fun base + piping colors to really personalize your piece!
Possibly my favorite detail in the room is this oh-so-sweet wicker hot air balloon. I originally planned to have it hanging over his crib or antique bookcase, but once the room started coming together with furniture, I just loved it over the glider and visible when you first enter the room. It's such a small touch, but makes a bit impact. I've seen MUCH more expensive versions of this, but really liked the darker woven color I found on Amazon (as a fraction of the price no less). Win win! Linking a few additional options I debated between.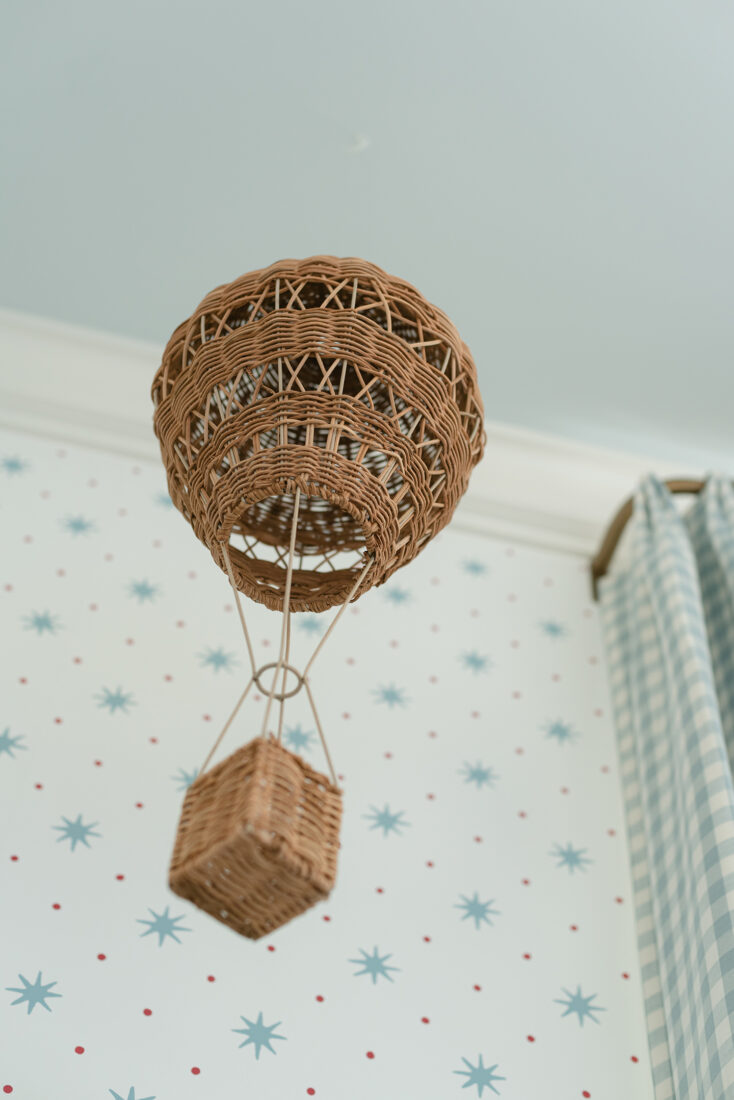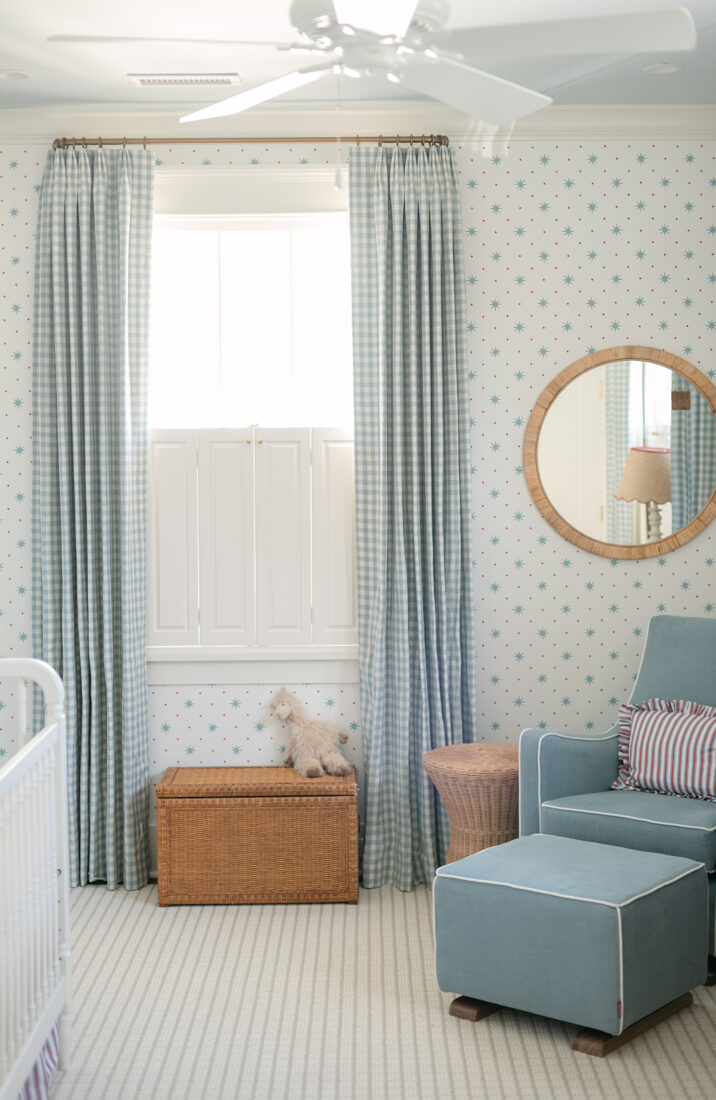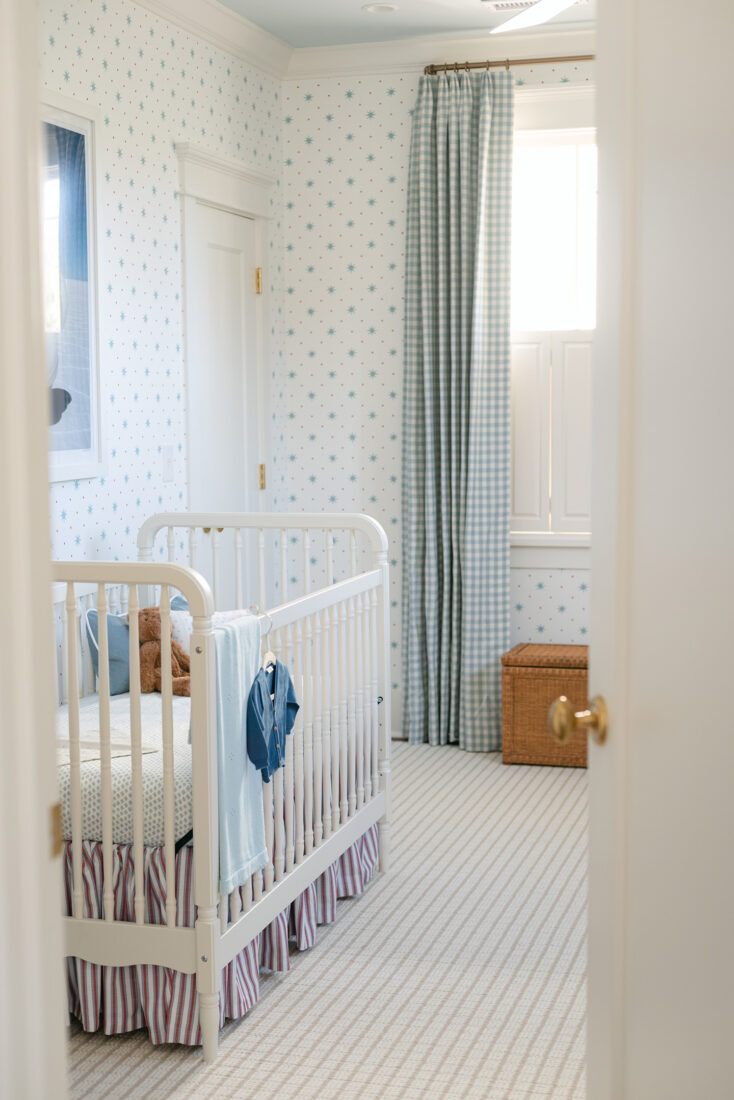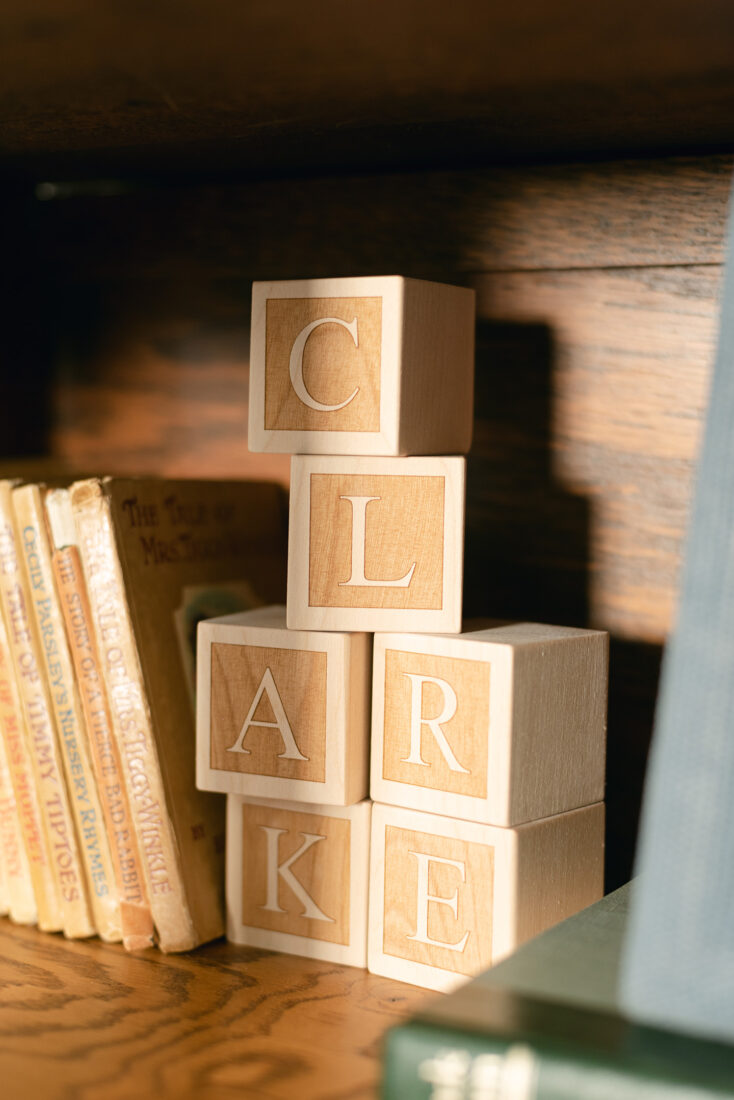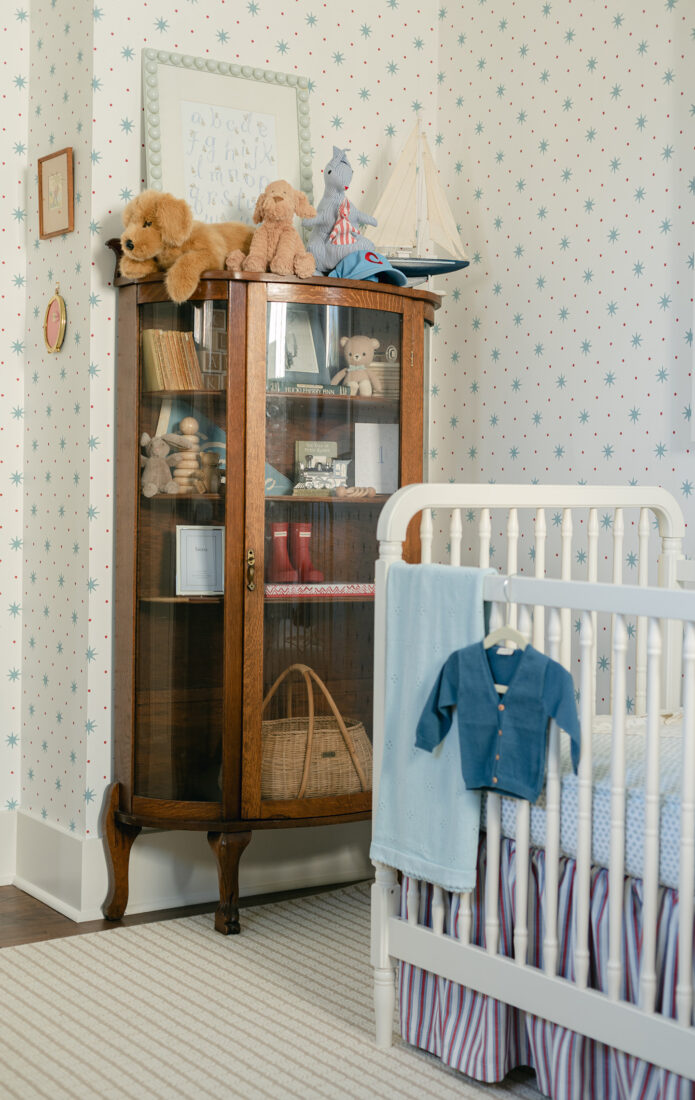 Bookcase Styling
Inspired by Megan Runion and Shelby of Pretty in the Pines, I knew I wanted to incorporate some type of antique bookcase or cabinet in the space. This small wall near his crib was itching for some height and personality. It's proven to be a great use of the space, along with providing some additional storage. I love layering favorite stuffed animals, sterling silver gifts, vintage books + sweet photos. Most of which has been gifted or sourced through Etsy and antique shops.

Heirloom Pieces
My far the most special piece we we've been gifted for baby Clarke was this tiny, vintage rocker with the most precious inlay detailing…which happens to have been MY DADS! Cue the tears. My Mom coordinated with my Nana + Papa to get it out of their attic, have it restored and flew with it from Colorado when she came for my Baby Shower. It's such a sweet sentiment to have in the room, and I cannot wait until Clarke is big enough to sit in it and read books on his own.
Also pictured below is the most precious navy cardigan. This was the very first thing I bought for baby after we learned he was a boy. Scooped it up at a darling boutique in Lisbon, Portugal. Such a sweet reminder of that trip and the joy we felt leading up to him birth. And too the far right is the most adorable heirloom lovie a friend had embroidered with his initials. Is there anything sweeter?!
Of note – Croghan's Jewel Box is my all time favorite spot to find special, unique baby pieces to gift. They're a small businesses on King Street in Charleston, but do ship as well!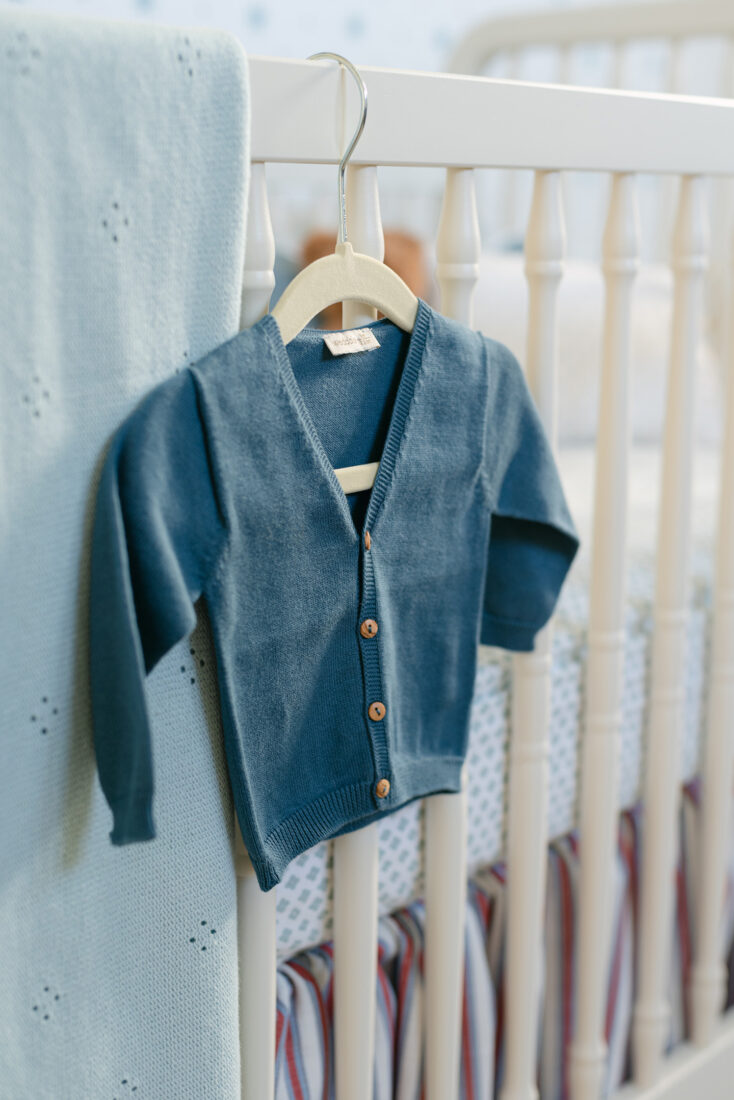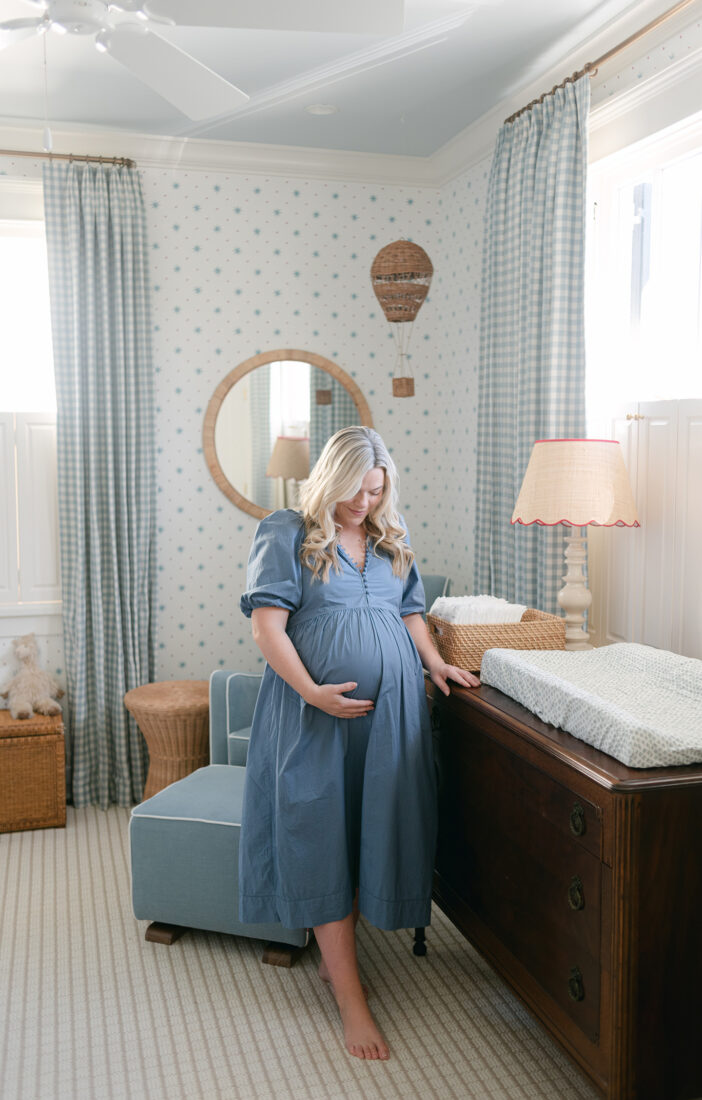 Photographed by MK McConaghy
SOURCES
Rug: Annie Selke 'Lawrence' in Natural c/o
Wallpaper: Sister Parish Serendipity in Blue/Red
Drapery: Custom pinch pleat panels made with Chelsea Textiles Fabric
Llama Art Print: Gray Malin
Luca Glider + Ottoman: Monte Design c/o
Crib: Warm White Spindle
Dresser/Changing Table: Antique sourced through FB Marketplace
Basket on Dresser: Container Store
Curio: Antique sourced through FB Marketplace
Lamp Base: Home Depot
Raffia Scalloped Lampshade: Matilda Goad c/o
Baby Rocking Chair: Heirloom passed down from my Dad
Woven Toy Chest: Antique sourced through Mercari
Woven Side Table: Urban Outfitters
Woven Mirror: Walmart {such a find!}
Crib Sheet + Changing Table Cover: Crate + Barrel
Crib Skirt: Custom Made with Serena & Lily Fabric
Bunny Lovie: Parterre
Stripe Ruffle Pillow: Custom Made with Serena & Lily Fabric