When we were originally laying out the design for this Green Family Room with Designer Jennifer Patterson, the vision was to design the entire room off of this 'Lotus Garden' (colorway: leaf) by Schumacher fabric. It has such beautiful variation of greens, robins egg blue and warm mustard. I loved it at first sight, and have been pursuing ways to build off of it ever since Jennifer presented it for this space. From determining the perfect shade of pale green for the walls to compliment the bold built-ins (took us 3 paint jobs; the last of which we did ourselves) to adding touches of yellow/mustard in the form of accent pieces and objects. It's been the inspiration for it all.
At first when we went over window treatments, we were thinking fabric romans in Lotus Garden so you could really see the visual components of the print itself. The ducks, the cranes, the lily pads, etc. But once we moved in and lived in the space for a bit (over a year to be exact), we decided that having a little added privacy for this room might be nice. It's our most used room, and having the option to close shades without completely blocking out light sounded like the perfect addition. Not to mention, I adore the look of a layered room. Wovens AND fabric, yes. please.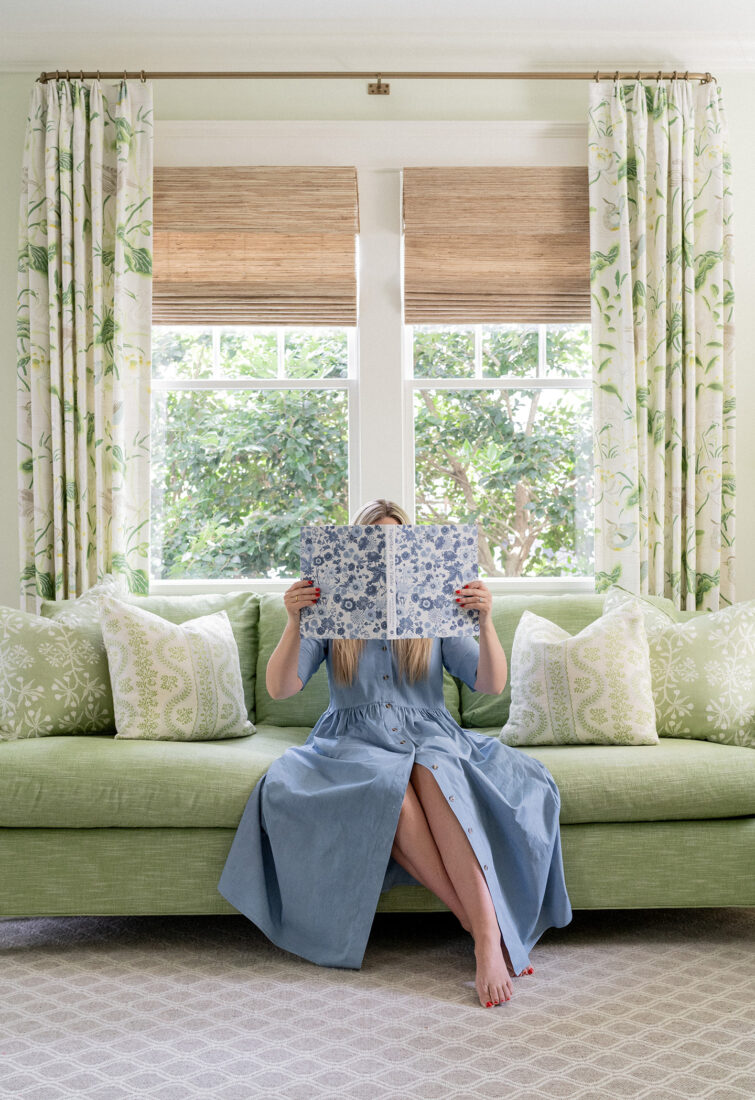 Layers of Texture
Fast forward to being introduced to Graber Blinds. When I was researching brands that provided quality woven blinds direct to consumer, I came across Graber. Great reviews, with the ability to order complimentary samples online. I ordered several I thought might be a good fit for our space and was impressed not only with the quality of the product, but also their customer service. They're responsive and extremely helpful, which makes the whole process so much more approachable, even for the most novice of home decorators. A true leader in the industry since 1939, Graber continues to provide quality window treatments for households nationwide.
After such a positive initial experience, I was thrilled they were interested in partnering. I worked closely with local dealer Patriot Blinds to bring the project together – from measuring to ordering + install. We landed on the style Sattera in color Terrain w. a tan lining so the color really pops whether they're up or down. And opted for motorized lift functionality, which has made adding privacy to the room so incredibly easy! The one-click remote is programmed to have each window on a different 'channel' which allows each shade to be lifted/lowered individually OR programmed all to together on one channel (what we allows utilize). But I also loved that we were able to program the shades stopping point to be exactly half way down the top window pane. Which allows in the perfect amount of light during the day, while still being able to visually see the added texture + warmth the natural shades bring to the space.
You can see them in action in this Reel on my instagram!
Can't say enough wonderful things about Patriot Blinds! Just wow. They're truly one of the kindest vendors we've worked with throughout our entire house process. Additionally, and admittedly I don't know a lot about this program, but I know Graber is also available at Costco! With a similar process in which they partner you with a local dealer to bring your space to life.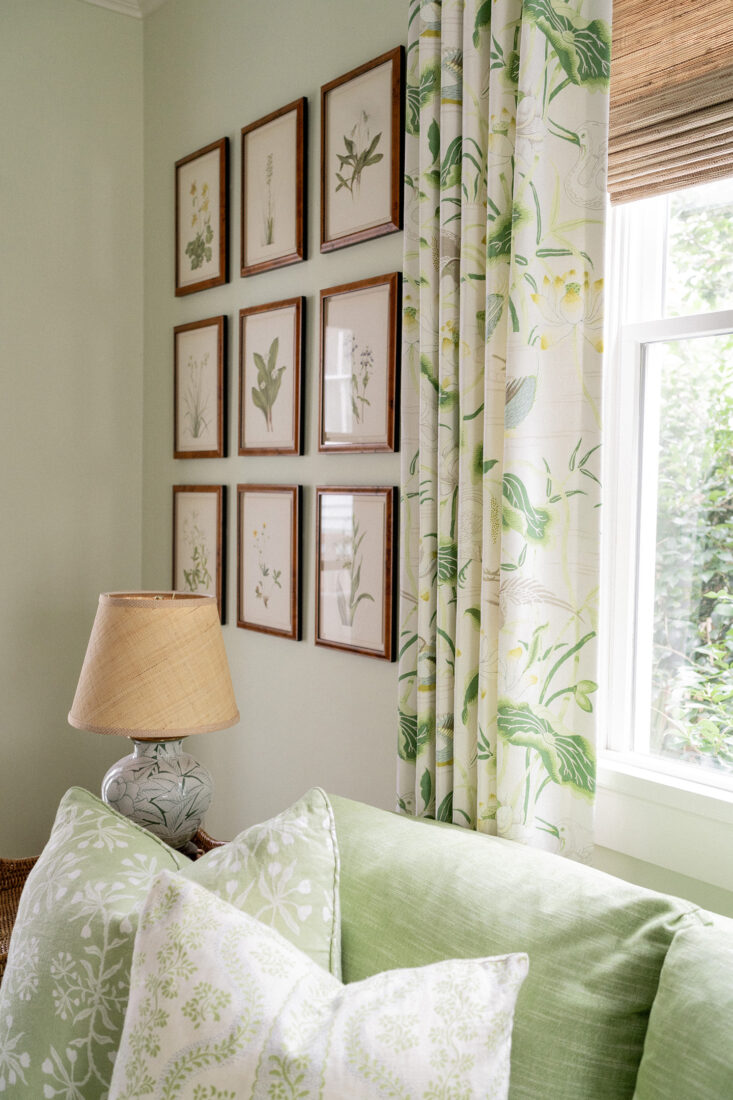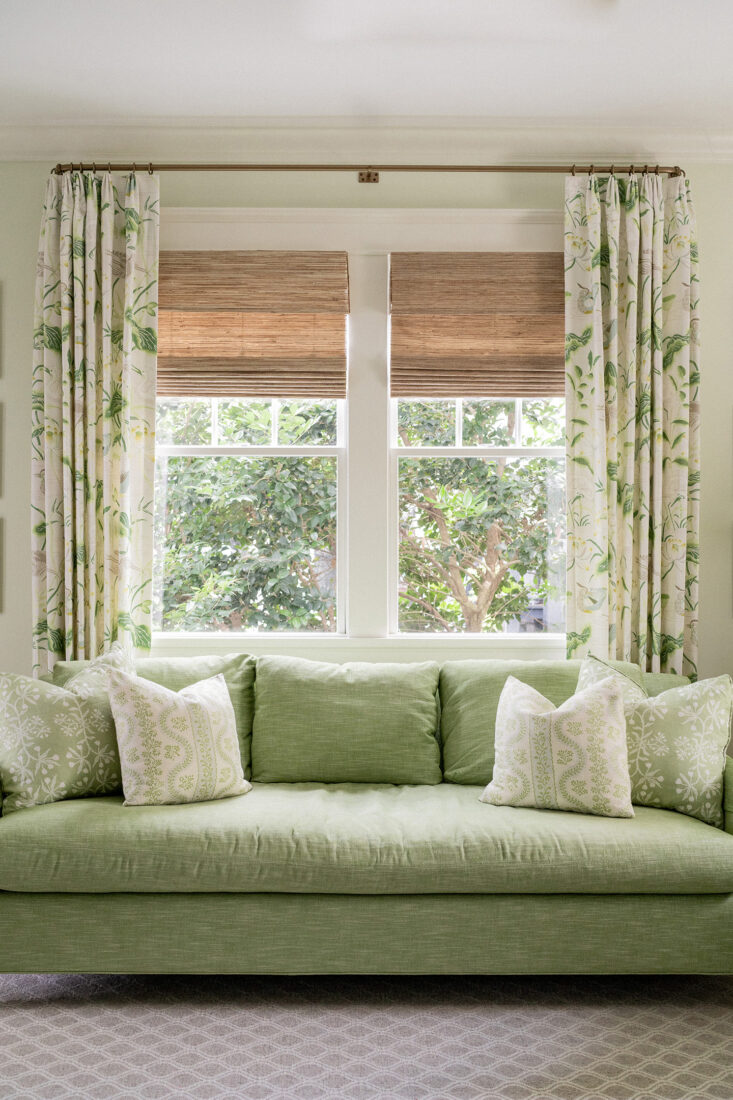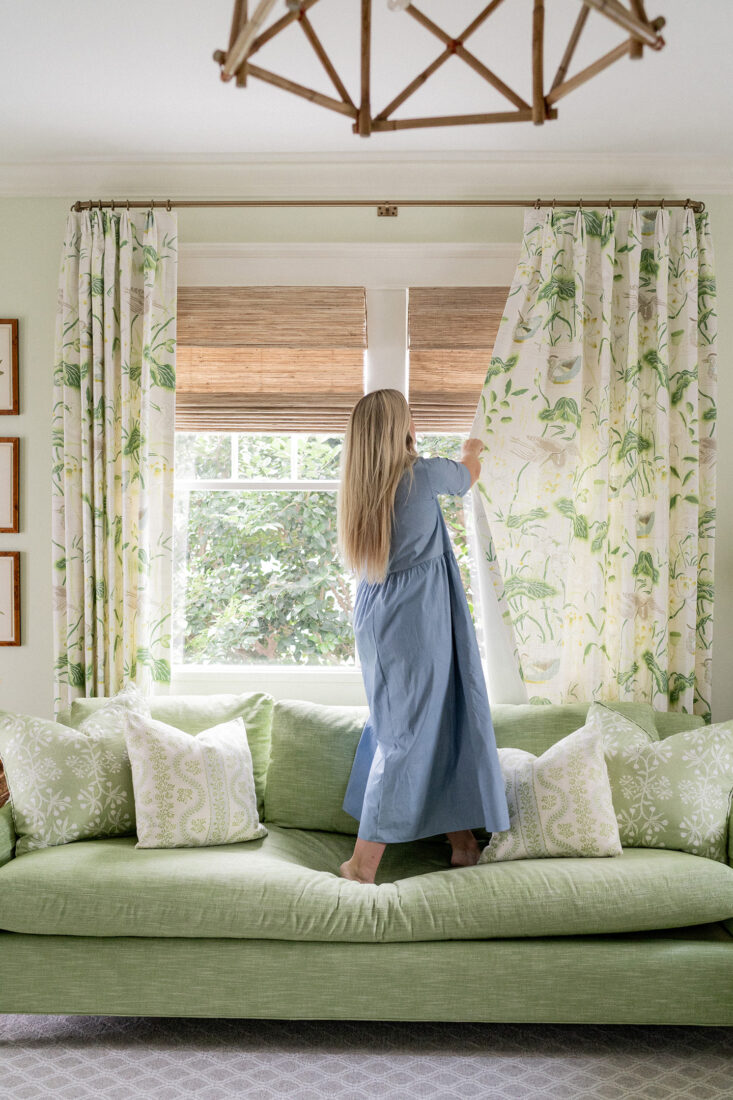 Window Treatments Bring it all Together
The addition of window treatments has been night and day in this space. The addition of natural woven shades + fabric drapes really completes this room beautifully, and makes it feel like HOME. Like all good things, it's taken time to come together, but we couldn't be happier with the end result. Hoping to have the room photographed in its entirety soon to share with y'all!
Additional Sources