Skirt: Designer Skirt c/o TJ Maxx // Blouse: Designer Blouse c/o TJ Maxx // Pumps: Aldo // Necklace: c/o Tryst Jewelry // Bracelets: Crystal Bracelet c/o Happy Wrist by Itchelita, Gold Cord c/o Love Always by SD // Sunnies: Charming Charlie
Spring is in full bloom and what better way to celebrate the seasonal change than with a little sorbet coloring! I recently took on the Maxx Style Challenge during a trip to TJ Maxx in search of trending pieces in line with notable street style photographer Amy Creyer's, of Chicago Street Style, top spring trends: stripes & sorbet. I choose to go the sorbet route, clearly, due to my absolute love of soft pastel colors for spring. My goal: to look like an Easter egg as often as possible, haha. No, but really. You can check out my inspiration for the outfit below!
I found this gorgeous, delicate lace pencil skirt and loved the element of sophistication it brings to the look. Paired that with a soft mint blouse with a slight shimmer and a gold statement necklace for a bit of contrast. Added a simple open toe pump, which I've been dying to whip out in this warm weather, and there you have it – chic sorbet style. If you're looking for some great deals on spring fashions, I'd highly recommend checking out your local TJ Maxx, there's always hidden gems!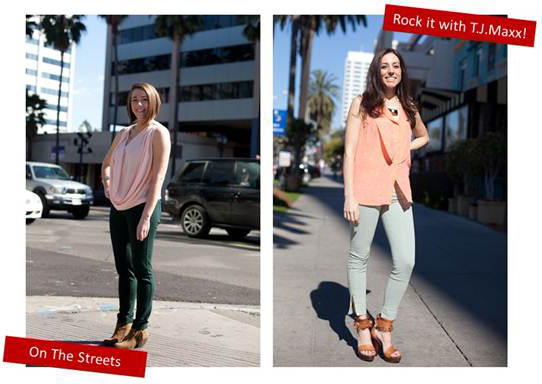 TJ Maxx find (pictured right): side zipper skinnies for $49.99, compared at $100!